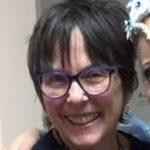 Kathleen Egan (Costume Design). "Kegan" originally designed the long running Triple Espresso for the Cricket Theatre in Minneapolis. In Minneapolis-St. Paul, she designed for the Guthrie Lab, The Frank Theatre and others. For the Indiana Repertory Theatre: Iron Kisses, The Immigrant, Drawer Boy, Red Badge of Courage, Same Time Next Year and the world premiere of Looking Over the President's Shoulder,which played nation-wide and at the Fords Theatre. Kegan has also designed off-Broadway, at the Hartman Theatre and Pennsylvania Stage Company, She was on faculty at the University of Minnesota and Emporia State University. She is currently the Costumer for Butler Ballet at Butler University.
With a unique combination of skills and interests, her business, K. Egan, creates custom fabric projects and window treatments.
Her work with Rowland Design Group was featured in Indianapolis Monthly magazine. She sells a line of tote bags made from recycled pet food bags.
An acknowledged "Cat Lady", she has volunteered to reduce the stray and free roaming cat population through the humane method of trap, neuter and release (TNR). Using TNR she has sterilized and cares for a colony of cats in her neighborhood. She also fosters for a pet adoption rescue that places shelter animals in forever homes.