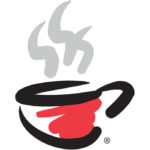 What is Triple Espresso?
Triple Espresso–a highly caffeinated comedy is about…
 Three guys
 A coffee house
 An utter lack of common sense
 Climbing the ladder of success, downwards
 Duststorms in Nebraska
 Dancing in Zaire
 Things that disappear…and reappear
 A gorilla in a music contest
 Hand shadow puppets
 The single most embarrassing moment ever broadcast on live national television
 The funniest show you will see this century!
Triple Espresso tells the story of three guys whose bid for showbiz fame and fortune ended in 4-minutes of magnificent failure on national television. Hugh Butternut, Buzz Maxwell, and Bobby Bean tell their rags-to-rags story earnestly, with hysterical results. Butternut is a musician, a vulnerable soul with a lounge lizard smile; Maxwell is an uncertain magician with an attitude; and Bean is an irrepressible, all-over-the-map entertainer with big dreams. The laughter is infectious and the comedy appeals to everyone from first graders to college students to baby-boomers to grandparents.
Our History
Early in 1995, Bill Arnold, Michael Pearce Donley, and Bob Stromberg, three successful solo performers who admired each other's work, gathered over coffee, never knowing the full impact the caffeinated brew would have on their future.
They decided to write something they could perform as a trio. Something fun, something unusual, something that would make people laugh so hard they'd snort and embarrass themselves. With that idea–and nothing on paper–they booked a performance for six weeks later at a local church.
Using Arnold's magic and comedy, Donley's original music, and Stromberg's physical humor, the three put together a show with elements of slapstick, vaudeville, and a touch of audience involvement. They used original songs, parodies and their unique chemistry to build a performance that they hoped would give audiences a night at the theater unlike any they had experienced before.
After its first performance, the trio contacted Bill Partlan, the Artistic Director of the Cricket Theatre. Partlan saw the show and immediately booked it for the upcoming season at the Cricket. With a little polishing, the show opened in 1996, and became the biggest hit in the theater's 26-year history.
Somewhere in one of those packed houses was Dennis Babcock, an independent theater producer and former General Manager of the Guthrie Theater. He had been invited to attend, and was impressed with the performance. He asked about future plans for the show and was told, "Well, that's why we invited YOU." Dennis signed on as producer, Triple Espresso,LLC was formed, and its first production opened to rave reviews and packed houses at the Music Box Theatre in Minneapolis in the spring of 1997.
It soon became clear that the show had the potential to go far beyond one theater in Minneapolis. The Triple Espresso team dreamed of playing several cities simultaneously, but the specialized skills of the authors made it difficult to cast with other performers. After searching through their collective network of showbiz friends, in 1998, they identified three multitalented men and put them through a long, arduous—and often hilarious—training process. Since then, over thirty accomplished actors have been hand-picked and trained in the art of being Buzz Maxwell, Hugh Butternut or Bobby Bean.
Triple Espresso is continuously honed by the authors to make it funnier, smarter, and more entertaining than ever. The show has carved out a unique niche in the entertainment spectrum: its irresistible humor crosses generations, and it's as funny the fifth time as the first.
In the past twenty-one years, Triple Espresso has entertained over 2 million people in over 50 cities in 6 countries in 3 languages (English, German and Flemish). The show continuously ran in Minneapolis and San Diego for over a decade. It has also played in Chicago, Seattle, Milwaukee, Dublin, London, Ghent, Munich, Berlin, Denver, Cleveland, St. Louis, Tulsa, Phoenix, Atlanta and many other cities.
A Few Places We Have Played (an incomplete list)…
Minneapolis,MN

*

Music Box Theatre
San Diego, CA

**

Lamb Players Theatre, Hahn Cosmopolitan Theatre & Horton Grand Theatre
Chicago, IL
Mercury Theatre
Madison, WI
Madison Repertory Theatre
Sarasota, FL
Asolo Theatre
Seattle, WA
The Performing Studio
Providence, RI
Providence Performing Arts Center
Springfield, MA
City Stage
Albany, NY
Capital Repertory Theatre
Milwaukee, WI
Marcus Center for the Performing Arts
Portland, OR
Portland Art Museum
Dublin, Ireland
Andrews Lane Theatre and various tour locations
Des Moines, IA
Temple for the Performing Arts
Portland, ME
Portland Stage Company
London, England
The Arts Theatre
Cincinnati, OH
Ensemble Theatre
St. Jacobs, Ontario
Schoolhouse Theatre
Detroit, MI
Gem Theatre
Denver, CO
Ricketson Theatre, Rattlebrain Theatre
St. Louis, MO
Grandel Theatre
Cleveland, OH
Hanna Theatre
Tulsa, OK
Liddy Doenges Theatre
Green Bay, WI
Weidner Center for the Performing Arts
Cedar Rapids, IA
Theater Cedar Rapids
Los Angeles, CA
Hermosa Beach Playhouse,  El Portal Theater
Gent, Belgium
Capitole Theater
Antwerp, Belgium
Stadsschouwburg
Austin, TX
The State Theatre
Indianapolis, IN
Indiana repertory Theatre
Munich, Germany
Tollwood Festival
Berlin, Germany
Admiralspalast
St. Cloud, MN
Paramount Theatre
Red Wing, MN
Sheldon Theatre
Atlanta, GA
Georgia Ensemble Theatre
Brainerd, MN
Central Lakes College Theatre
Duluth, MN
Mitchell Auditorium
Rochester, NY
Geva Theatre
Phoenix, AZ
Actors Theater
Albuquerque, NM
KiMoTheatre
Pittsburgh, PA
CLO Cabaret
Sacramento, CA
The Cosmopolitan Cabaret
*Longest running show at Music B
ox Theatre (April 3, 1996 – April 27, 2008 continuously; holiday productions 2009-2016)
**Longest continuously running show in San Diego (January 14, 1998-February 17, 2008)
How We Operate
Triple Espresso is produced through arranagement with The Daniel Group, a provider of top-quality, professional theater and other entertainment, whose mission is to provide good, wholesome productions that positively impact audiences.
All booking, marketing, production, casting and artistic functions are conducted out of the Minneapolis, Minnesota headquarters, which oversees all aspects of each engagement.
The performers of Triple Espresso are cast and trained by the original director and the authors, then assigned to the various touring and resident shows across the globe.
If you have questions or would like to discuss booking opportunities, please contact Dennis Babcock, president of The Daniel Group and Executive Producer of Triple Espresso.