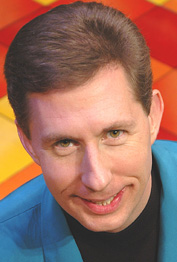 Charles Peters

Charles Peters began his professional acting career at age ten when he was cast from five hundred kids to star in a television pilot. Charles has appeared in numerous stage productions including Taming of the Shrew, Scapino, Barefoot in the Park, The Last Days Of Judas Iscariot and The Madwoman of Chaillot. He studied for two years with the legendary Adam Roarke at the Dallas Film Actors Lab and later moved to Los Angeles where he landed roles in feature films and television shows including a brief appearance on General Hospital.
During this time his childhood interest of magic grew extensively.
Charles took a break from acting and created an original theatrical illusion show. This act, billed as The Arlingtons, transported him around the world to Singapore, Great Britain, South Africa and Hawaii. The Arlingtons appeared in night clubs, casinos and at the world famous magic club in Hollywood known as The Magic Castle.
Charles joined the cast of Triple Espresso in 2004 and soon after was asked to be the permanent Buzz Maxwell in San Diego, California. He performed there for three years until the show ended its historic ten-plus year run. Charles continues to travel but now calls San Diego his home. He also continues to act in theaters in San Diego. Charles wishes to thank Jennifer for all her love and support.
You can find out more about Charles at www.charles-peters.com.