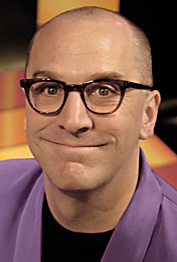 Grant Richey

Grant Richey passed away early Thanksgiving morning, 2009, having lost a decade-long battle with cancer. Grant played the role of Hugh in Triple Espresso many times in Minneapolis, San Diego and Milwaukee. We bid him farewell with great sadness, remembering with affection his joyful abandon in performing, and his unique take on lines like "just a little...Reu-nion!" We'll miss you, Grant!
** Grant Richey worked in the Twin Cities area for many years, performing on the stages of the Children's Theatre Company, Theatre de la Jeune Lune, Park Square, Cricket Theatre, and Penumbra Theatre, to name a few, and inspiring the many students he taught. Nationally, he has been seen in television commercials for everything from Budweiser to Korbel. Grant was the first person to utter, "No… the champagne's not Korbel!" Grant is best known for his character "Tony Martini," from his critically acclaimed The Martini & Olive Show— a '70s comedy act that has boogied from Seattle to Orlando, and Los Angeles to New York City. It is a show that the LA Weekly describes as "A delightfully awful lounge act… riotously over the top! Brilliant!"
**Grant Richey was a member of Actors' Equity Association, the Union of Professional Actors and Stage Managers in the United States.