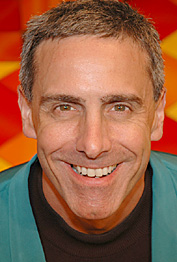 Patrick Albanese
Patrick Albanese (Buzz Maxwell) has spent most of his life standing on a stage somewhere. A native Chicagoan, he could be seen regularly on WGN's popular Bozo's Circus TV show. As a teen, he also performed in the local nightclub circuit, provided his algebra homework was completed and the garbage had been put out.
In Los Angeles, he was emcee at Hollywood's prestigious Magic Castle, the most successful private entertainment club in the world. When he wasn't on stage there (he hosted over 9,000 performances in his tenure), he could be found either entertaining corporate clients or designing effects for their events. He's appeared in dozens of television commercials over the years, selling things like pagers (old communication method), VHS tapes (old entertainment medium), and antiques (old stuff).
Multiple cities and nearly 3,000 performances of Triple Espresso have given Patrick many wonderful experiences, but none better than meeting his future wife, Janet, during the show's initial run in Des Moines, IA, where they now reside with their two children, Elena (Ellie) and Evan (EJ).
Patrick is the Traffic Reporter on the CBS station in Des Moines, which often results in people saying, "I didn't know they had traffic in Des Moines." He is also the spokesperson for the YMCA of greater Des Moines and Iowa. You can contact him through his website, PatrickAlbanese.com.
---