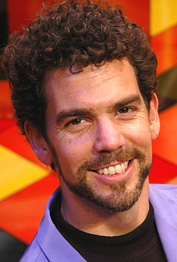 Robert O. Berdahl

** Robert O. Berdahl (Hugh Butternut) is happy to be back in Des Moines with Triple Espresso!! He has been a regular in the acting company at The Guthrie Theater since 1999. Some of his Guthrie credits include The 39 Steps, Macbeth, Little House On The Prairie, After A Hundred Years, 1776, Pygmalion, Othello, and Wintertime. In addition to the Guthrie, he has performed in Minneapolis with Chanhassen Dinner Theaters, Park Square Theater, History Theater, and the Jon Hassler Theater. Robert also wrote, directed, and produced a retrospective theatrical tribute to Tom Waits' music called, Warm Beer Cold Women, which was completely sold out for the entire run of the show at The Guthrie Theater in 2007. He was part of the original Minneapolis production of Forever Plaid at Hey City Stage and he opened the show for extended runs in many cities nationwide. Robert also appears from time to time in various silly commercials and independent films. Robert won the Best Actor Award at the 2010 Indy Horror Film Festival for his work in the film Bind. Robert holds a B.A. in music and a B.A. in theatre from Gustavus Adolphus College and has studied acting at California Institute of the Arts. You can read and see more of him at www.robertoberdahl.com.

**The Actor appears through the courtesy of Actors' Equity Association, the Union of Professional
Actors and Stage Managers in the United States.
---