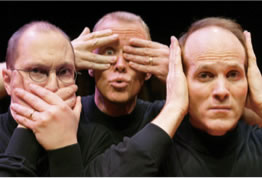 Michael Pearce Donley, Bob Stromberg, and Bill Arnold

Below are just a few of the thousands of responses we receive from
Triple Espresso fans all over the world.
Click here to share your comments and see if yours makes the cut.
What can you do for your parent's anniversary that hasn't already been given or done? Take the entire family to Triple Espresso! It was a wonderful night - 16 of us - and absolutely everyone had a fabulous time. We laughed 'til we cried and then talked about it for days afterward. It is the answer to family entertainment!
Cindi
Minneapolis, MN
We laughed 'til we cried and never wanted it to end! It truly is a show for all ages -- My mother (age 60), myself (age 34), and my daughter (age 8) thoroughly enjoyed ourselves.

Ginger
Austin, TX

These performers do something incredible--make you laugh like you never have while also conveying warmth--an amazing experience! I'll be back, next time with my kids....

Diana
Minneapolis, MN

For years my husband and I have been meaning to go to see Triple Espresso. Well last nite we finally went with two dear friends. I can tell you that Dorothy ended up with cheek cramps, Joe had a headache and I was sure I'd contacted pneumonia - all this pain from laughing too much and often...
Heidi
Minneapolis, MN
I saw Triple Espresso a couple of weeks ago in San Diego-it was hysterical! Everyone would love it, side splitting laughter! It was also great meeting the guys after the show!
Carol
San Diego, CA
Your show invokes the real thing: deep-from-the-gut belly laughs and cry-'cause-you-can't-breathe
wheezing. It's quite a sight!
Kathy
Green Bay, WI
My girlfriend and I were in tears from laughter!
Jon
Woodbury, MN
I tell people at work that they need to see Triple Espresso. I tell them if it's not the funniest show they have ever seen, that I will pay for their tickets. Funny-I haven't paid for anyone's tickets yet!
Dave and Cecelia
Minneapolis, MN
When I left the show, my stomach hurt from laughing! It's the greatest show ever! If you don't believe me, you've got to see how awesome it is. And by awesome, I mean totally funny!
Cody
Minneapolis, MN
I don't think I have ever laughed so hard in my life! For nearly 2 hours, my co-workers and I were constantly laughing and many times laughed until we were in tears. What talent these 3 gentlemen had in entertaining our group. And then to have all 3 of them shake our hands after the show. What class! Thank you for a great night of entertainment!
Janet
Des Moines, IA
I can't remember the last time I've laughed so hard for a constant two hours! This was the funniest thing to see four years ago, the funniest thing to see today, and four years from now it will still be the funniest! It just never gets old!!!
Kristin
Minneapolis, MN
The most side-splitting and clever show I've ever attended! I can't remember the last time I had so much fun!
Larry
Detroit, MI
Bring Back Triple Espresso Please!!!! Milwaukee ain't the same without you!
Andrea
Milwaukee, WI
It is the greatest show ever! It is absolutely hillarious! You will start to cry when you see it. Their expressions are out of this world and the stories they tell are the funniest things you will ever hear!
Alex
Minneapolis, MN
The absolute best side spliting play I have ever seen! Once you have seen it, all others pale in comparison.
Dan
San Diego, CA