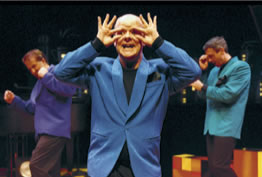 JC Cutler, John Bush, and Patrick Albanese


How long is the show?
Triple Espresso is a two act production with a 15-minute intermission. Total running time is approximately 2 hours, 10 minutes.
It is a squeaky clean comedy perfect for any one, any age in your family. There is no profanity nor innuendos.
For what ages do you recommend the show?
We recommend Triple Espresso for kids from 6-106! (Kids under the age of 6 may have trouble sitting through it.) Please check the policies of the theater where you plan to see the show if you wish to bring very young children. Most theaters require that everyone have a ticket regardless of age.

Is there any audience participation?
Yes, there is some, but it's not the main thrust of the show, and it's pretty non-threatening, so if the idea scares you--not to worry! Both introverts and extroverts enjoy this show. It has so much variety: it's a funny story full of music, magic, physical comedy, a little audience participation, and (according to one reviewer) approximately 4 laughs per minute!